Welcome to the dental practice of Priscilla K. Magnuson, DMD, and Samantha L. Keck, DMD, dentists in South Hamilton, MA. We are dedicated to providing our patients with state-of-the-art dental care as we work to maintain, restore, and enhance the natural beauty of your smile. We believe that preventative care and education are the keys to optimal dental health. Our personalized approach and high standard of excellence result in beautiful, healthy, long-lasting smiles. We look forward to welcoming you and your family in to our practice.
Our team is highly trained and skilled in all areas of general and cosmetic dentistry. We are committed to continuing dental education, dedicating ourselves to intensive coursework about the latest techniques and treatment in dental medicine.
We specialize in restorative dentistry, implant restorations, the treatment of Temporomandibular Joint (TMJ) and Temporomandibular Disorders (TMD), occlusal (bite) equilibration. We also provide Zoom!™ whitening procedures and Invisalign™.
Conveniently located in downtown South Hamilton within the Willowdale Office Building, our practice works to create a stress-free environment for our patients. We look forward to serving you soon.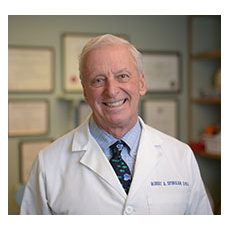 In Memory of Robert A. Spingler
Hamilton – Robert A. Spingler, DMD, 70, passed away January 8th in the comfort of his Hamilton home. He was the husband of Stacey Somers Spingler. He leaves his son, Derek Spingler daughter-in-law, Molly Kenny, granddaughter Philipa-Shea Tory Spingler, of Hamilton and step daughters, Cameron Scott of New York City, and Caroline Scott of Boston.
Originally from New Jersey, Dr. Spingler moved to Hamilton after completing a two-year commitment with the U.S. Air Force Dental Corps in Dayton, Ohio. He was a graduate of Farleigh Dickinson University, receiving both his Bachelors of Science and Doctor of Medicine in Dentistry. He opened his private practice in South Hamilton over 30 years ago and remained an active member of the Hamilton community. Dr. Spingler served on the Board of the Hamilton Foundation. He was a former Board of Trustees Member of the Shore Country Day School. He served on the Board of Directors of the Eastern Dentists Insurance Company and served as the Assistant Secretary of the Massachusetts Dental Society.
As part of his dedication to his patients, he pursued higher education in many different areas of treatment. Although proud of his practice as a general family dentist, his true passion was in restorative dentistry and the treatment of TMJ. Dr. Spingler spent years studying at the Pankey Institute in Florida where he completed all levels of advanced dental techniques in restorative dentistry, TMD and occlusal (bite) therapy. He also completed a year-long program at LSU and the San Francisco Institute of Esthetic Dentistry.
A member of the Marsh Rats, Myopia Hunt Club, and Essex County Club, Dr. Bob, "Bops", "DB", was an avid outdoorsman with a passion for fishing, hunting and golf. This was enhanced with extensive travel around the world. The one thing that he valued over all else was his family and friendships. He was a loyal and devoted husband, father, grandfather, and friend.
He is also survived by his siblings, Donald Spingler of NC; Wendy Hawryluk of NJ; John Spingler of NJ and Janet Ganley of MA. He was predeceased by his wife Eileen Shea Spingler and his brother Rick Spingler.